Powerful and Efficient Multipurpose LED Light
A 25W LED Light, energy efficient with tough designs and wide range of accessories make it ideal for multipurpose uses.
10x3W High Power LED

Each Flare unit contains 10 3W StarkLED Customized High Power LEDs, consuming 25W with a 700mA forward current and generating up-to 2200lm*.

Long Lifetime

Maintain 80%~75% brightness after 30,000 hours* ( ~ 10 years).

Energy Efficient

Save up to $40 annually, comparing to traditional lights.

Low Initial Cost

Flare units provide one of the best Dollar/Watt or Dollar/lumen among competitors.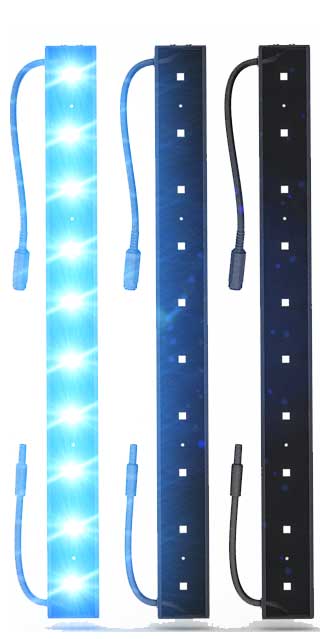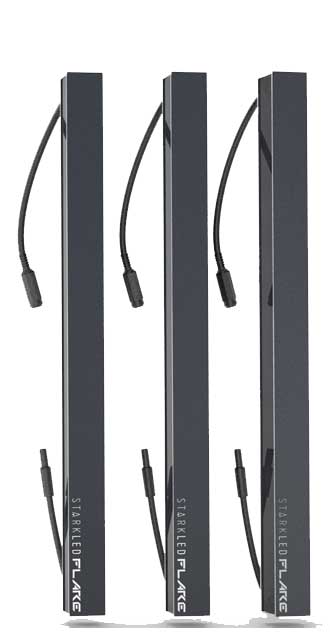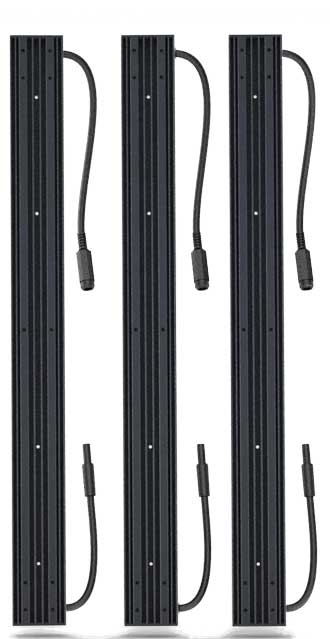 Stealth Design
Designed to concentrate your attention at the true focus points.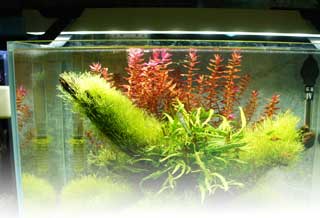 High quality aluminum heatsink/casing.

Anodized finishing prevents corrosion.

The unique nature stealth color and texture.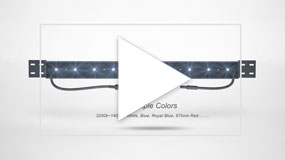 | | |
| --- | --- |
| Beam Angle | 120 Degree |
| Operating Temperature | -4°F to 140°F |
| Input | 36VDC 700mA Max |
| Power (Typical) | 25W |
| Dimensions (LxHxW) | 15.9in x 1.1in x 1.5in 405mm x 28mm x 38mm |
Unlimited Combinations
Flare units can be physically connected together.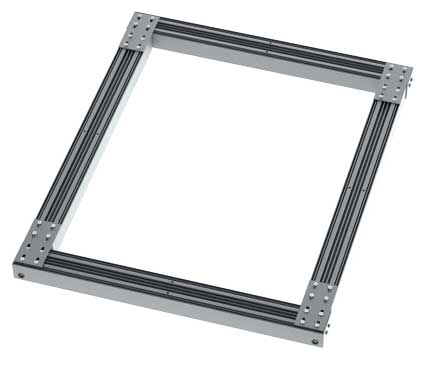 Multi-directional Connectors

Each Flare unit features three symmetric mounting/connecting points, located at middle and two sides. With the aluminum alloy connectors come with each light, unlimited number of Flare units can be physically connected together.

15.9 inches Length

The length of each unit is exactly 15.9 inches (405mm), which enables them to be chained together to match standard lengths, such as 4 feet ( 3 lights).

Colors
No matter it's goldfish, coral, underwater plant or general indoor lighting, StarkLED Flare has just the right color for you.
Multipurpose
With 5 different models and unlimited extension possibilities, StarkLED Flare is ideal for a wide range of uses.
Saltwater Aquariums
Reef Aquariums
Fresh Water Aquariums
Underwater Plants
Agricultural Growth Light
Indoor Lighting
Outdoor Lighting
Accessories
Customizable items extend the unlimited.
Brackets
Wide Range

StarkLED Flare Bracket supports a wide range of length from 7.1 in to 24.7 in (connected to one Flare).

314 Stainless Steel

It is built in 314, one of the highest grade stainless steel, able to support virtually unlimited combinations. Learn how to connect your Flare units.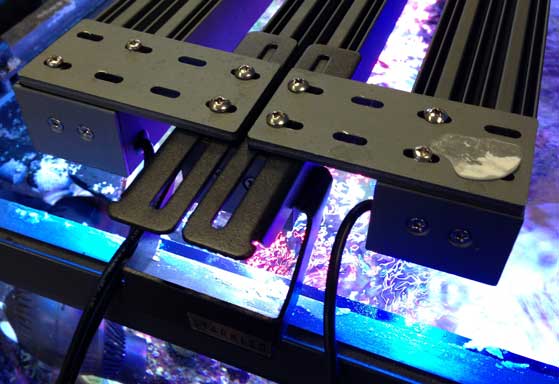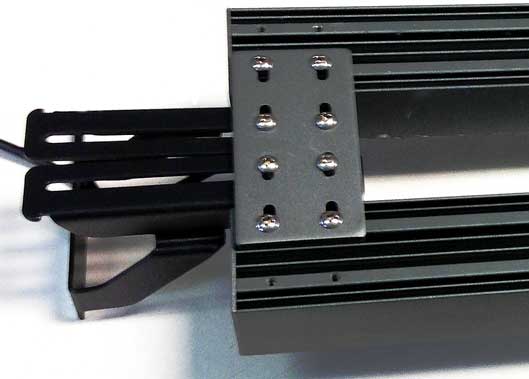 Dimmers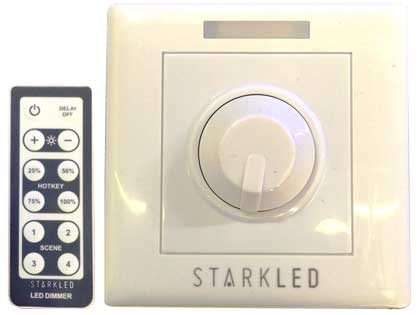 Remote Dimmer
Empower you to take full control of your StarkLED Flare lights. Remote Dimmer provides both manual and remote functions for adjusting the brightness of your lights. You can also store 4 customized brightness levels.
Inline Dimmer
A simple and affordable inline dimmer for StarkLED Flare units.
Constant Current Power Supply

Constant current is Better
Better brightness consistency control among different LEDs in the same signage or lighting application.
Longer life expectancy on the LEDs.
Higher system power efficiency rating – hence easier qualification for state's or power utility companies' rebates, tax breaks, etc…

Support upto 3 Flare

Due to the characteristics of Constant Current technology, each Flare Power Supply has to be connected to specified number of Flare units ALL THE TIME. For example, 60W Flare Power Supply has to be connected to TWO Flare units.